"Señora Kathleen, come see," Dalys called to me from outside.
I got up from my desk and followed the sound of her voice. She was standing off to the side of our little Los Islotes office with a bright grin.
"What is it, Dalys?" I asked.
"Look, Señora Kathleen, it's our first flowers. Our first red flowers…"
Dalys and I have been planting, cultivating, and potting, trying to pretty up the area around our new Los Islotes base of operations.
After a few months of effort and care, we were rewarded last week with our first flowers. The bougainvillea we planted at the entrance gate finally showed us the answer to the question we've been considering—what color would the blossoms be? Now we know. Fuchsia.
Since the start of this dry season (or summer, as the Panamanians call our current sunny situation), we have also been pushing hard on infrastructure installation out here at our Los Islotes community on Panama's Azuero Sunset Coast.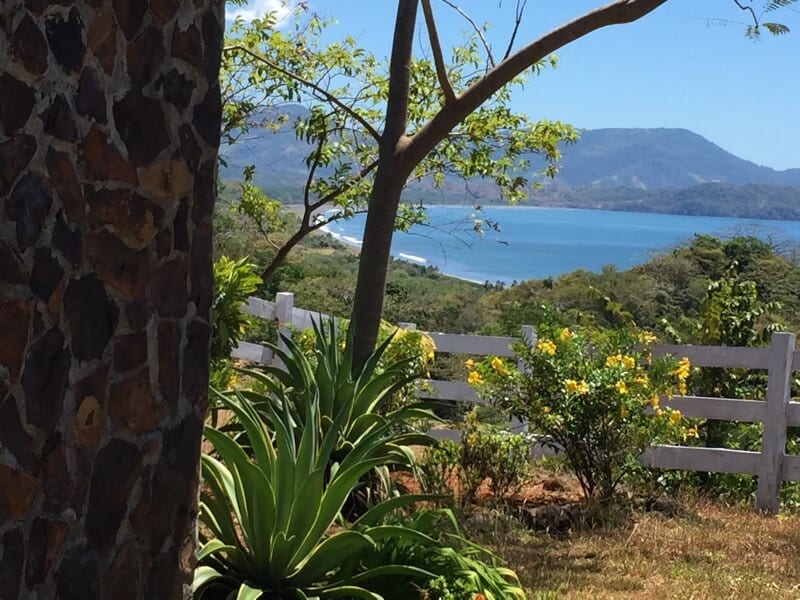 And we have passed long-worked-for milestones. After Herculean effort and years of back and forth with Unión Fenosa, the local service provider, we have electricity to the property.
We also have internet… the best on this coast thanks to the solar-powered tower we've installed. Lief and I have put our new internet to the test these past few weeks we've been working from the Los Islotes office. From live interviews over Skype with U.S. media and conference calls with parties spread across four or five countries at a time, to file-sharing with our LIOS office in Panama City and streaming movies on Netflix… we've done it all… without missing a deadline or an opportunity.
In addition to bringing electricity and the internet to the property, we've dug a new well… buried massive tubes underground for water and wastewater services… and plumbed our new beach bar.
Panama Jack's, our little open-air oceanfront hangout, now boasts running water, two operational bathrooms, and even outdoor showers for rinsing off after your ocean swim.
These may not sound like groundbreaking, newsworthy accomplishments, but, out here on this wholly untouched coast, in fact, they are.
The flowering bougainvillea at our entrance gate last week was the cherry on top. Finally the pieces are coming together.
To be honest, Lief and I had no idea what we were getting ourselves into when we undertook the development of the beachfront hectares we named Los Islotes.
Now, years later, it's Dalys, the young local Panamanian girl we've hired to manage the Los Islotes office and work crew, who is helping me to understand what's really going on.
What are we doing out on this stretch of Panama's Pacific coast? Over the years, I've wondered often about the real answer to that question.
"It is exciting for me to be part of Los Islotes," Dalys told me recently.
"This is my neighborhood.
"When I was a little girl, my friends and I would ride our horses through this property to get to the beach to go swimming. We would play in the water and then, after, chase the monkeys in the nearby trees.
"When it was time for the turtles to lay their eggs, we would come at night to watch.
"I have such wonderful memories of this place. And now I get to work here."
Dalys is 26 years old. When she was 11, her mother gave her a children's book in English.
"I love books," Dalys told me over lunch one day. "They are my favorite things. I was lucky growing up because my mother made sure I always had books to read."
Dalys taught herself to read English… and then to speak English. Those are uncommon skills in this part of Panama, and they make Dalys very valuable to us. Plus, of course, she knows this coast from a lifetime of firsthand experience.
"I'm starting to see your vision for this place," Dalys said the other day.
"You are building something special… something that will continue for a very long time.
"For years, I have had the idea that I would like to have a real career… more of a career than I imagined I could have here in Veraguas.
"At the same time, though, I did not want to leave this place. All four of my grandparents are still alive, and they all live within a short walk of the house where I live with my mother. I see my grandparents every week. Family is important to me.
"So I was torn about the plan for my future.
"Then I came to work at Los Islotes. Now I see that I can have the career that I want without leaving my home."
"We need lots more help out here," I told Dalys. "We need lots more people like you… people who want to grow and learn and be part of building a new community."
Dalys promises to introduce me to some of her friends who fit that description.
Meantime, little by little, day by day, she continues to show me what's really going on out here on this Azuero Sunset Coast.
Kathleen Peddicord
---